So, after I posted about books for little girls, my sister-in-law asked if I would do a post for boys.  As I try always to listen to my oldest siblings (the rest aren't as important ;) ), here it is.  The only thing is, this is almost purely from Jethro, because well, I'm pretty firmly fixed in the more girly side of things.  Not that some books of course can cross the gender line, but once again, what I'm saying is that these are recommendations from Jethro (who is an ACTUAL boy), and not from me.  Oh, and also, Jethro has a high reading level, and I haven't put these in any sort of age or reading level order.
Jethro's favorite books (with a 3 star rating):
1. Ranger's Apprentice Series ***
By John Flanagan.  Mostly everyone in my family has this whole series, and everyone loves it, not just the kids.  In fact, John Flanagan's next series which I believe also happen in the same world as Ranger's Apprentice is my brother Derek's latest favorite books.  Those are called the Brotherband Chronicles, and Jethro has read the first 3 and loves them as well.
2.  Harry Potter  ***
Somehow I feel like these need no commentary.  I don't even know how many times Jethro has read these.  We have a few of them in German too- what a great way to increase vocab!
3.  Percy Jackson and the Olympians Series ***
This was a gift from Jethro's cousin Myles who loved them, and Jethro also loved them.  So so much.  And Brett read them too and tells me they're good.
4.  Lord of the Rings ***
5.  Bartimaeus Trilogy***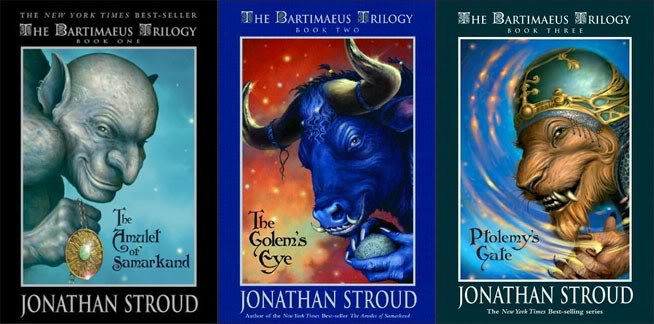 We actually listened to the first of these on a trip, but it was in German, so I still can't say if they're good or not.  But Jethro and Brett both endorse them.  (Yes, Jethro loves fantasty books.)
6.  Redwall books:   Mossflower ***    Redwall**  Mattimeo**
I don't even know how many Redwall books there are—a ton, anyway.  Jethro only has a few, but he really likes them.  Also, I have to say that the animated series is awesome too and all my kids like it.
7.  The War to End All Wars- World War 1 ***
Jethro was really into learning about wars, and this non-fiction book was a really good overview of WWI.  I read it too because I wanted to increase my own knowledge, but found it to be rather non-fictionish.  :)  Goes to show I'm not a boy who spends all his doodle time drawing planes dropping bombs and bloody stick-men soldiers throwing grenades.  Because if I were, I guess I would also give it 3 stars. (You can click on the picture for this one to read more about it on goodreads.)
8.  True Spy Stories *
Another one for if you're interested in non-fiction, interesting boy stuff.  You can click the picture on this one too.
9.  Chronicles of Narnia **
When we moved here these books were about the only ones we had.  Jethro read them over and over and over and over and over.  I think the reason he didn't give them 3 stars is because it's been a while since he was so into them.
10.  Septimus Heap Series **
11.  City of Ember Series (I don't know how many stars this or the following book would get, because he added them later and forgot to do stars.)
12.  King of the Wind
And that's what he remembered at the moment.  Here are a few other ones I can vouch for personally:
Castle in the Attic –Elizabeth Winthrop
The Horse-Tamer –Walter Farley
Rascal – Sterling North, also The Wolfling by the same author
Gentle Ben – Walt Morey
Johnny Tremain- Esther Forbes
Rifles for Watie- Harold Keith
Indian in the Cupboard Books –Lynne Reid Banks
Any by Kenneth Thomasma
The Chronicles of Prydain –Lloyd Alexander
The Dark is Rising Series –Susan Cooper
Ummmm, okay, I think that's all I can think of right now.  I hope it gives you some ideas.  If you have any recommendations- leave a comment!  :)